History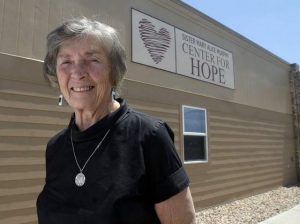 Sister Mary Alice Murphy is a pioneer of human services. For decades, she spearheaded outreach programs, service centers, and other efforts, advocated for people experiencing homelessness, and—leading up to 2009—inspired the community to invest in a one-stop-shop resource center. That center, the Murphy Center, now serves nearly 3,000 people each year in Larimer County.
Named in honor of Sister Mary Alice Murphy, the Murphy Center opened in 2009 with an ambitious goal: provide a central location at which people can access a range of services. More than a dozen agencies operated on-site, collectively providing case management, behavioral health services, outerwear, showers and laundry, connections to housing, and numerous other services.
Near the end of 2015, the owner and manager of the Murphy Center announced its intention to step away from the facility. Multiple community partners stepped forward to oversee the facility together, launching the Murphy Center into its most collaborative management structure yet. Homeward Alliance became Managing Partner; Catholic Charities, Homeward Alliance, Neighbor to Neighbor, and SummitStone Health Partners formed a Partner Council; Murphy Center LLC became the building owner; and United Way of Larimer County, the Community Foundation of Northern Colorado, Homeward 2020, and countless organizations and individuals signed on as additional partners.
After one year as Managing Partner, Homeward Alliance assumed fiscal and management responsibility of the Murphy Center. The Murphy Center became an initiative of Homeward Alliance, working alongside Homeward Alliance's other programs and initiatives to make homelessness rare, short-lived and non-recurring in northern Colorado.
Today, the Murphy Center remains dedicated to the vision of Sister Mary Alice Murphy. The Murphy Center is both a container and direct provider of services, partnering with dozens of agencies so that people who face homelessness are welcomed, safe and supported.